Welcome
to the Château
In an authentic Briard village, discover the Château de Bonaventure !
Both a charming hotel and reception venue, the Château de Bonaventure invites you to take advantage of its spaces for a stay or an event.
Whether you want to reserve a room or organize tailor-made festivities, the castle team welcomes you and does everything possible to make your experience an unforgettable memory.
Story of
the Château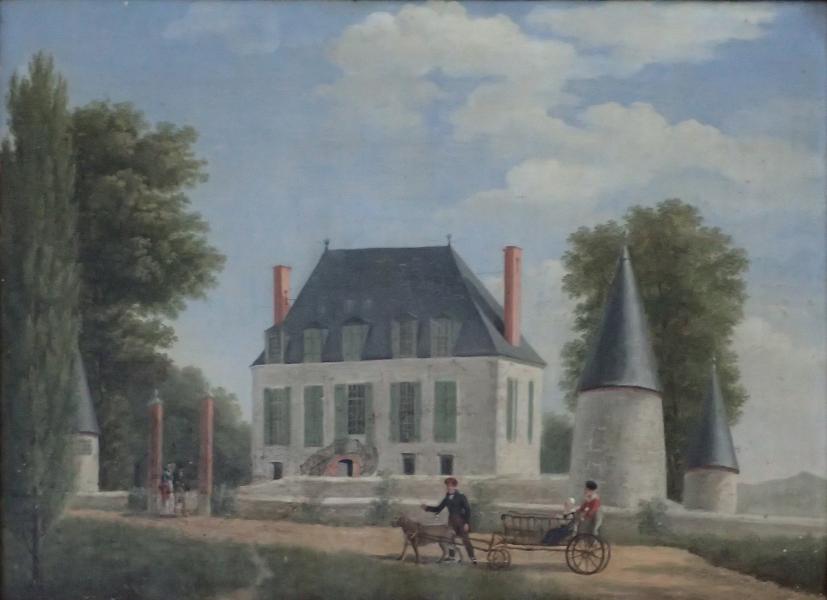 Its 12th century turrets bear witness to its medieval past, back to the time when its first stones were erected, after which it was eventually gifted by King Saint Louis to Thomas d'Aulnoy, known as "de la Houssière" in the year 1250.
The surrounding moat dates back to the 16th century, but the castle is a vestige of the 18th century.
The magnificent property has changed hands over several generations, and the soul of each family who has owned the chateau has left an impression within its walls, particularly that of the De Charnacé family who acquired it in 1809 and kept it under their care for 200 years.
Formerly known as Château de la Houssière, the château was recently renamed, paying homage to the first owner of this lineage, Bonaventure Gautier de Charnacé.
The castle as we know it today is thanks to the work of two well-regarded architects: Louis-Jules Bouchot, who transformed it into a jewel of eclecticism in the second half of the 19th century, and Jean-Marc Pitet, who helped resurrect the chateau's heritage and exceptional character with a full restoration from 2018 through 2021.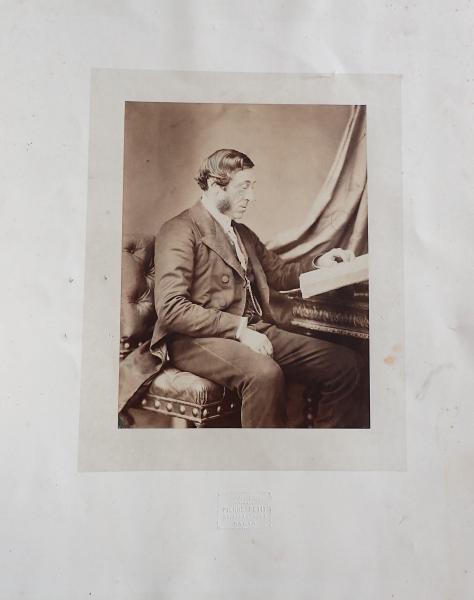 Venue Capacity
| | | | | |
| --- | --- | --- | --- | --- |
| | Size (m2) | Banquet | Reception | Classroom |
| The Grand Salon | 150m2 | 150 | 180 | 130 |
| The Mignonnettes Terrace | 50m2 | 40 | 60 | 25 |
| The Salle de Pressoir | 120m2 | 100 | 175 | 130 |
| Château gardens and forest | 4 hectares | 220 | 250 | -- |
Services
A Local Breakfast...
Join us in the Grand Salon or al fresco on the Terrasse des Mignonnettes (weekdays from 7:00 a.m. to 10:00 a.m. and weekends from 7:30 a.m. to 10:30 a.m.) and satisfy your appetite while enjoying the château's gorgeous greenery and grounds as your enviable backdrop.
As a guest of Chateau de Bonaventure, your day will begin with a delicious, locally-sourced continental breakfast curated from the region's prized fare, including fresh-baked bread, delectable pastries, farm fresh eggs, local cheeses, and seasonal fruits.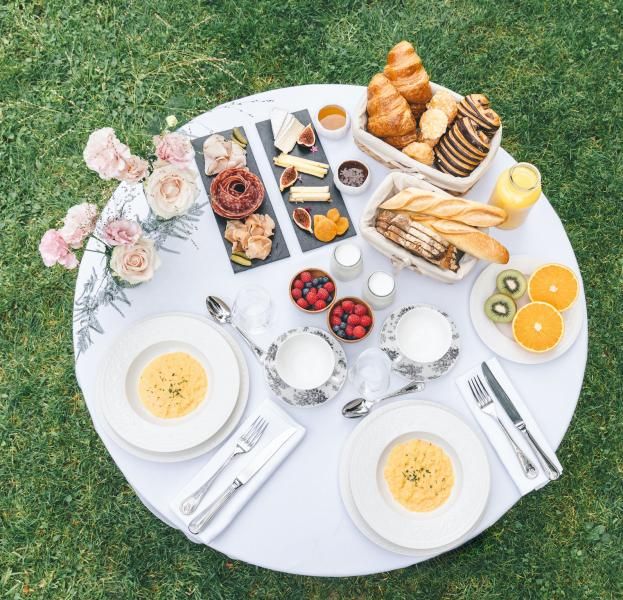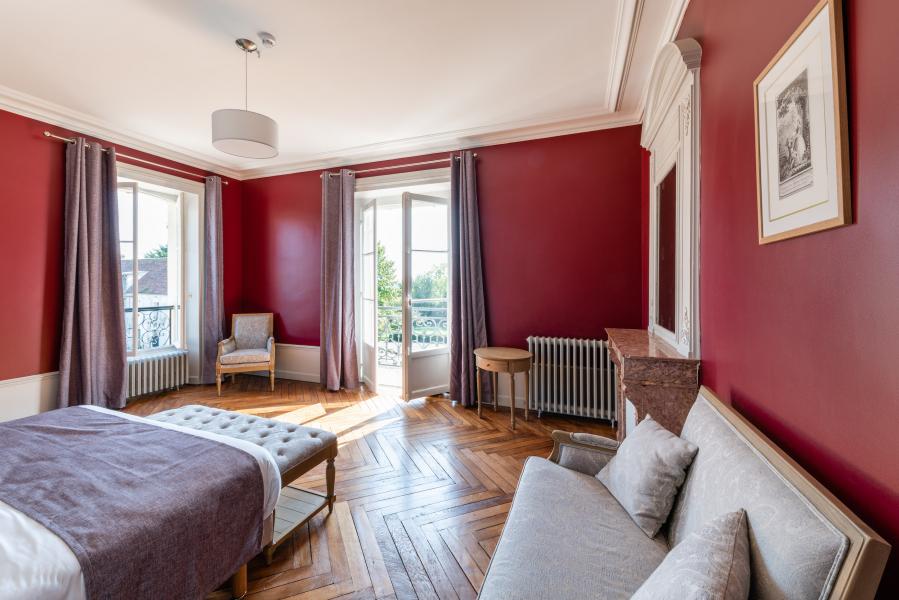 Attentions to details...
Each of the chateau guest rooms and suites have been artfully designed to ensure your comfort and convenience. Tasteful furnishings, luxury bedding, and thoughtful amenities are standard in every room – there's no need for a phone charger with our built-in USB outlets. The elegantly modern bathrooms feature organic Grown Alchemist toiletries and the coffee and tea station come equipped with a Nespresso machine and tea from the renown Palais des Thés. You can unwind while taking in the panoramic views of the French countryside and château grounds, or stay connected through our fast WIFI network.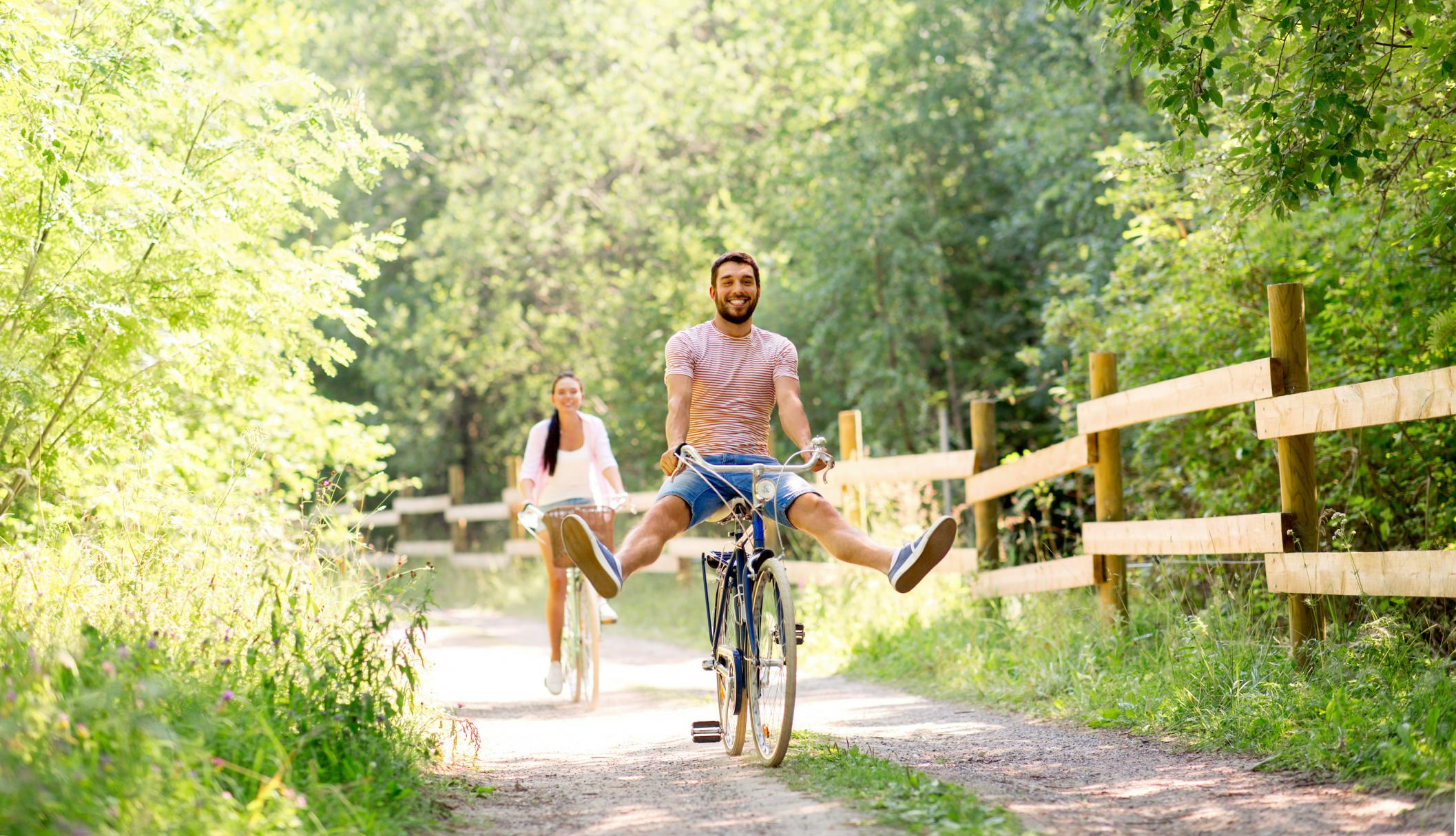 By Bike...
Between the idyllic Aulnoy village, vast forests, rolling wheat fields, and flowing rivers, an entire day of outdoor adventure awaits.
For our cycling aficionados, we offer complimentary bicycles for exploring our gorgeous countryside pathways and roads. Follow the hiking trails that pass through the town to discover the Morin Valley, pedal along the footsteps of Jehan de Brie, or take a tour of our local producers.
Fancy a quick bike ride? A day of hiking or cycling paired with a picnic lunch? An in-depth tour of nearby attractions accompanied by a local guide? Share with us your ideal daytrip and let the Château de Bonaventure team help you plan your perfect two-wheeled (or on foot) excursion.
Pool & Relaxation area
Coming soon
Beginning summer 2024, we invite you to enjoy the brand-new château pool and relaxation deck with terrace bar. With a view of the castle and the village church, guests will enjoy sunbathing on lounge chairs surrounding the swimming pool, although its inviting waters will surely inspire a leisurely swim.
Quench your thirst with a fresh fruit juice or delicious cocktail at our poolside bar. Our chef-designed menu will offer an assortment of savory and sweet snacks – a refined cheese and charcuterie platter, fresh tomato and burrata salad, or a cheeseburger topped with all the fixings … enjoy.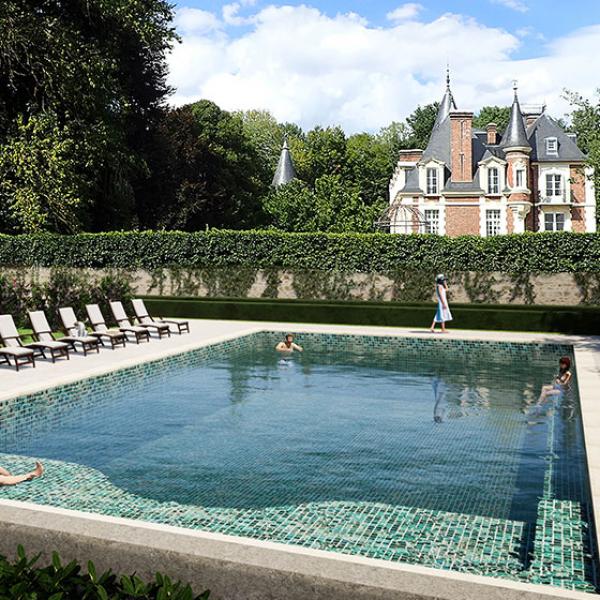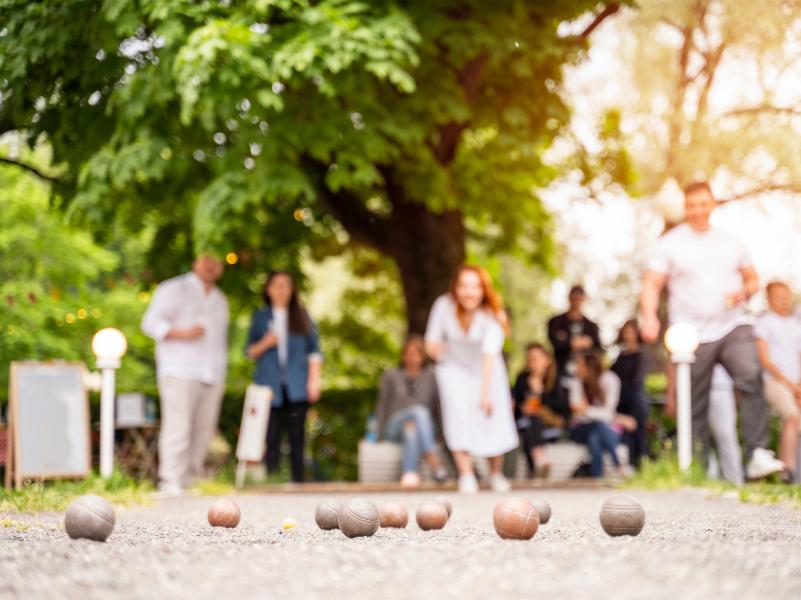 Games, attractions, and activities
Whether you are joining us as a hotel guest or as part of a larger event, we invite you to make the most of our picturesque outdoor setting by enjoying our complimentary activities, sports equipment, and games that will guarantee a laugh-filled escape with friends and family.
The Château de Bonaventure offers numerous games and sporting equipment, including Pétanque, badminton, frisbee, Mölkky, board games ... choose your own adventure play to your hearts content!
Exclusive use
for your events